Cordon Bleu
400g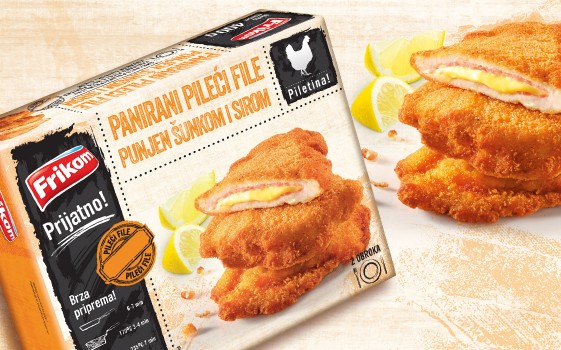 Cordon Bleu is a specialty made from the fines chicken filet, that in combination with chicken ham and Gouda cheese provides special taste.
In combination with some of the Frikom vegetable mixtures it will satisfy the sense of even the most demanding gourmets.
Excellent choice if you work all day long and do not have the strength to spend a lot of time in the kitchen preparing food, and you wish a tasty meal.
Preparation:
Deep-fryer

3-4 min

Frying

5-6 min

Oven

7 min
Chicken Cordon Bleu may be prepared in several ways. In a pan, on a moderately heated oil the meal will be finished in 6-7 minutes. In a deep fryer, in previously heated oil at 170ºC fry the Cordon Bleu for 3-4 minutes. It will be equally tasteful if you prepare it in an oven for 7 minutes at 235ºC.