Spinach pie
560g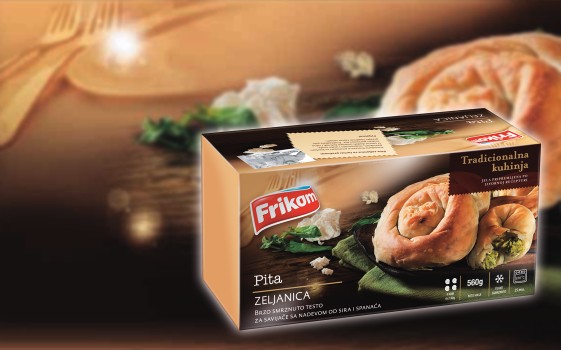 Frikom spinach pie represents a perfect selection for the most demanding fans of traditional salty pies. Rich with filling, with perfectly balanced taste of spinach and cheese, this pie will make every meal an unforgettable experience. Fans of this taste combination, wrapped in twisted pastry will love Frikom spinach pie. Tasty pies are an excellent meal or snack, therefore they will be a perfect bite for a birthday party, party and family gatherings, while they are very simple to prepare.
Each package of 560 g contains four pies.
Preparation:
Thawing

30 min

Oven

25-27 min
Pies are to be placed in the oiled pan and left at room temperature for 30 minutes. Bake them in pre-heated oven at 220°C for 25 minutes. Take them out of the oven and cover them with sour cream, per wish.