Spinach with Cream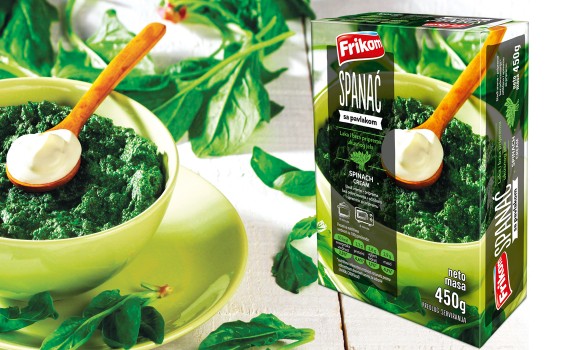 A meal that is just as attractive in its irresistible flavour as its delicate texture and beloved by all generations is Spinach with Cream. It is an excellent choice as a side dish with meat or fish dishes, and suitable as a light dinner when we want to eat something tasty, but simple and refined.
Frikom Spinach with Cream is a premium product prepared from spinach with the addition of cream and spices, making it a perfect meal. Simple to prepare, it saves you time in the kitchen, while always offering the same irresistible flavour. Spinach with Cream can also be served with pasta or mashed potatoes and meat, or however else you desire.
Preparation:
To prepare product, place frozen spinach in a pan. Set heat to medium, wait until it boils and cook for 1 minute once melted.

In the microwave, place spinach in a closed container and cook for 7 minutes, stir, then microwave for an additional 3 minutes.