Mixed vegetables for Minestrone soup
450g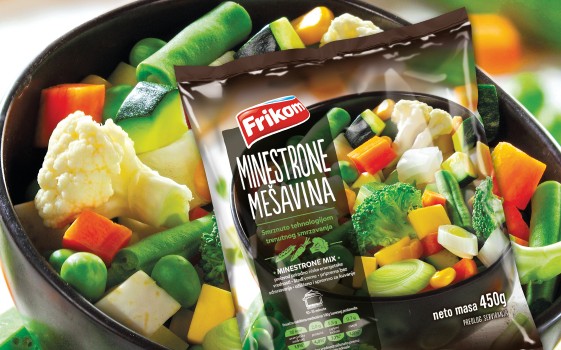 Did you know that Minestrone soup, or "big soup" translated from Italian was popular dish even in Roman? Modern version of this recipe is different in almost every region of Italy, for everyone has their own secret recipe.
Frikom mixed vegetables for Minestrone includes carrot and potato in cubes, parsnip and zucchini in cubes, sweet corn, cauliflower, green beans, broccoli, peas and onion.
This classic mix of different vegetables willmake your Minestrone rich and tasty.
Preparation:
Preparation method: Cook for 10-15 minutes in boiling water or broth
Serving suggestion: In previously prepared chicken broth with small meat cubes add mixed vegetables for Minestrone, pasta and spice it with tomato puree as desired. Cook for 10-15 minutes. Served soup can be complemented with parmesan and toasted bread, previously sprinkled with garlic.