Quinoa Mix
400g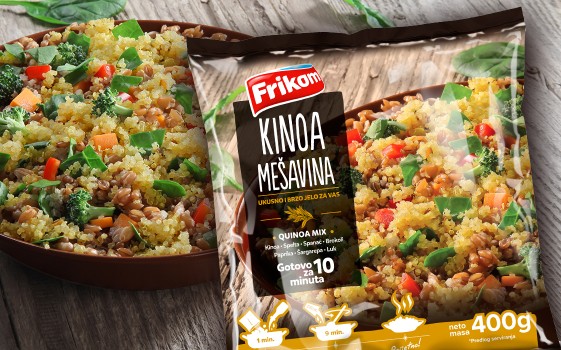 Even though it is often classified as a cereal, for similar preparation and consumption, quinoa is a grass. It represents a source of protein, fiber and has outstanding nutritive properties.
Frikom Quinoa Mix includes quinoa, spelt and mixture of different vegetables (broccoli, red pepper, spinach, carrot and onion).
You can prepare it quickly and easily in just 10 minutes and use it as side dish or an ideal individual meal.
Preparation:
Prepare the product without prior defrosting. Add the mix to heated oil, fry for a short time and then add water (total of 230 ml) and stir gently, for about 10 minutes, until the water evaporates. Spice at will.