Russian Salad
900g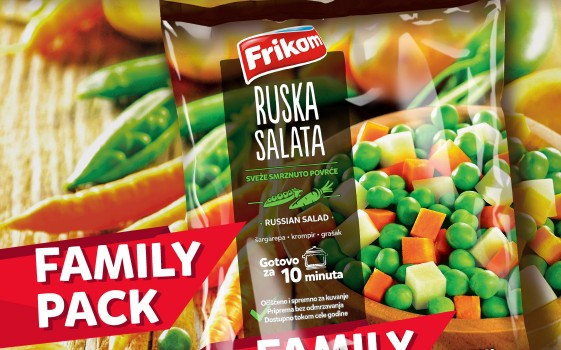 Frikom mixed vegetables for Russian Salad is an indispensable part of any patron saint day meals and now is available in a new bigger packaging of 900 grams, which represents the right choice for all large gatherings.
New, twice bigger packaging of this mixture, is an ideal solution for preparing large celebrations, as it enables the preparation of delicious specialties that everyone likes, with one packaging in short time.
Frikom mixed vegetables for Russian Salad is the favourite product of all consumers, not only for  preparation of traditional Russian Salad, but also for preparation of various fish salads. Also, it goes well with various sauces and side dishes.
Add creativity to your cooking and let your imagination guide you, with new, larger Frikom packaging of Russian Salad.
Preparation:
Similar products