Toscana Mix
400g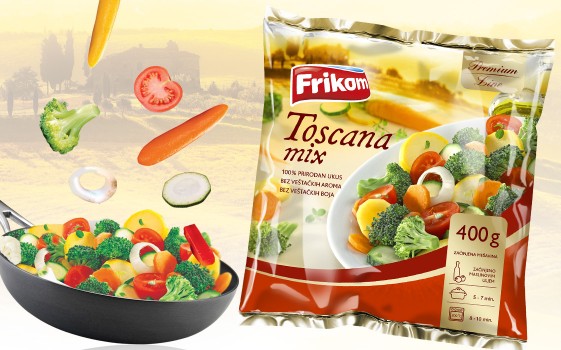 Toscana Mix is a new spiced mix from top quality vegetables with an addition of natural spices and plant oil and represents the right choice for all gourmets and spicy food fans. It includes:   
Zucchini
Broccoli
Carrot
Yellow carrot
Tomato
Cherry tomato
Onion
All of this in combination with natural oil and spices brings the real taste of Toscana and Italian cuisine!
Preparation:
Pan: Put one spoon of oil into the pan, when the oil heats up add frozen mix and fry for approximately 8 minutes on moderate temperature, with occasional stirring.

Microwave: Prepare the frozen mix at 850W for 5 minutes, in a covered pan, then stir and heat up for 4 minutes at 850W in open pan.