Breaded Cod Sticks
300g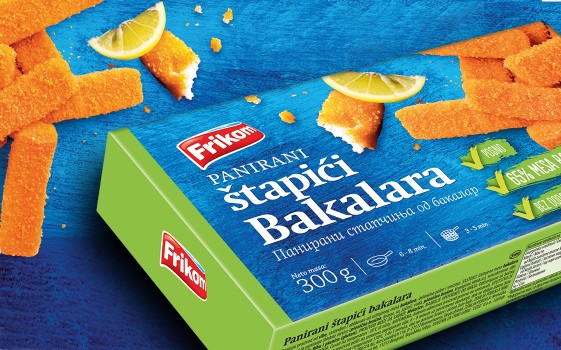 Juicy and crispy Frikom breaded sticks made from pure cod meat, with sophisticated taste, will satisfy all fish enthusiasts.
If you wish to surprise your guests with quality and tasty meal that is quick and simple to prepare, breaded cod sticks are the right choice.
Prepared sticks can be served in combination with some of vegetable mixes from the rich Frikom offer.
Preparation:
Deep-fryer

3 min

Frying

6-8 min

Oven

14-20 min
Pan: Fry the frozen product on moderately heated oil for 6-8 minutes with occasional turning, until it reached golden yellow color.

Deep fryer: Fry the frozen product at 170ºC, for 3 minutes, until it becomes crispy and golden yellow.

Oven: Place the frozen sticks on a pan covered with baking paper and bake on the upper level in previously heated over at 220ºC for 7-10 minutes, then turn them over and bake for another 7-10 minutes.