Cornflakes panade fish sticks
270g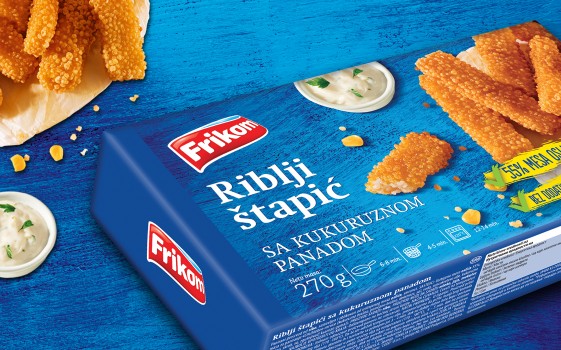 Crispy and juicy! This is the best description of Frikom Fish Sticks with crispy corn panada.
Made of juicy hake, combined with attractive corn panada - its taste will delight you and you will be satisfied also with the speed and simplicity of preparation of this delicious meal.
You can serve the prepared sticks with various side dishes, such as potatoes, rice, salad, vegetables and various sauces, which makes them particularly attractive for the youngest ones.
Preparation:
Deep-fryer

4 - 5 min

Frying

6 - 8 min

Oven

12 - 14 min
In the frying pan:Fry the unthawed product in hot oil for 6-8 minutes, turning it occasionally, until it becomes golden-yellow and gets crispy.

In the fryer: Fry the unthawed product in a large quantity of hot oil at the temperature between 170 - 180°C, for 4 to 5 minutes, until it becomes crispy and golden-yellow.

In the oven: Place the frozen sticks on the paper covered pan and bake on the upper level in the preheated oven at 220°C, for 12-14 minutes, until they become golden-yellow and crispy.