Breaded Chicken Sticks
300g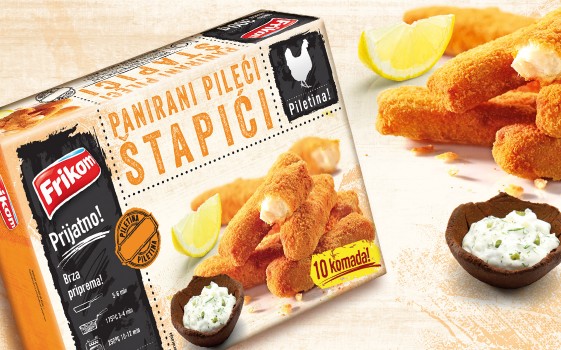 Unique on our market, made from fine minced chicken filet, partially cooked, frozen.
Frikom breaded chicken sticks, in just a few moments, turn into crispy and juicy bites that will satisfy the taste of the entire family, especially its youngest members.
Excellent choice for all those that do not wish to spend too much time by the stove.
Preparation:
Deep-fryer

175˚C / 3-4 min

Frying

5-6 min

Oven

250˚C / 10-12 min
Without previous defrosting you can prepare breaded chicken sticks in a pan on moderately heated oil for 5-6 minutes, with occasional turning until they reach golden yellow color. If you choose oven, heat up the oven at 250ºC, bake the sticks for 10-12 minutes, or in a deep fryer at 175ºC for 3-4 minutes.