Chrono mix with mushrooms
450g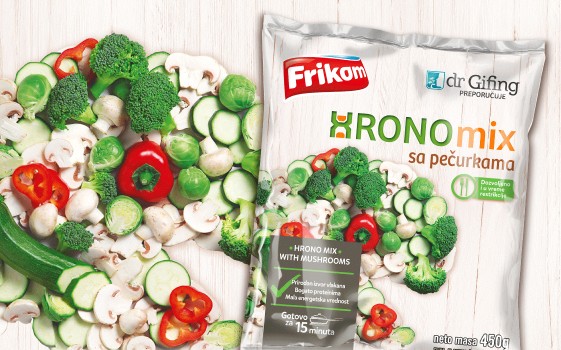 Frikom Chrono mix with mushrooms in a 450 gram packaging is a delicious, colourful and low-calorie combination of vegetables and mushrooms that combines top ingredients - mushrooms, zucchini, broccoli, red peppers, and Brussels sprout. It is frozen using rapid freezing technology which preserves nutritional values, while vegetables are cleaned and chopped and very easy to prepare.
This blend is a natural source of fibre, very rich in protein and is therefore an ideal meal for anyone looking for a healthy and balanced diet. The mixture can be used in the Chrono diet and during the restriction period, as well as in combination with other foods in all three main meals (breakfast, lunch and dinner). It is also very convenient when it comes to preparing a quick meal at any time of day.
Frikom Hrono Mix with Mushrooms is ​​a great standalone meal for anyone who wants to get fit and stay fit. With this mixture, meals can be delicious and packed with fibre and protein at the same time.
Preparation:
Prepare the product as fresh vegetables without thawing. Preparation: fry for 15 minutes.